event description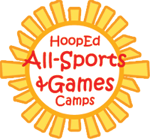 Remember the old school days when kids got on their bikes and spent the summer days with friends at the playground? Those were special times. HoopEd is bringing kids back to the playground with the All Sports and Games camp. Kids will spend each day rotating around all different sports in an environment where coaches teach the rules of the playground, incorporate all of the kids regardless of abilities, and stress the important lessons of sportsmanship and being honest in play. Games include everything from kickball, soccer, flag football, whiffle ball, and basketball to all sorts of dodge ball games, capture the flag, and even old school "kick the can!"
Boys and girls ages 5 to 13 are welcome. The HoopEd coaches create an environment where kids of all skill levels and abilities feel comfortable and included. Although we always compete to win, the spirit of the game and FUN is at the center of everything we do. Simply put, kids have fun and learn by DOING!
All Sports and Games Camp is offered every winter break and spring break, on student holidays and throughout the summer.