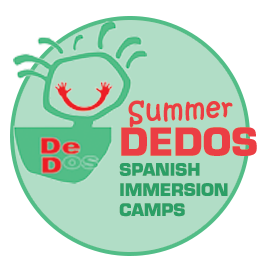 DEDOS Spanish Immersion Camp

Campamento de Verano DEDOS
AT OYSTER ELEMENTARY
July 3-28, 2023

3-28 de julio
MINI

DEDOS Spanish Immersion Camp


MINI

Campamento de Verano DEDOS
AT OYSTER ELEMENTARY
April 18-21, 2023

18-21 de abril
---
A full-day camp experience that focuses on community building and age-appropriate games, sports, theater and arts activities in Spanish open to Boys and Girls, Ages 4-12 - not limited to Oyster Adams students
Un día completo de inmersión en español enfocado en construir una comunidad mediante: lectura nivelada, actividades deportivas, artísticas y lúdicas. Todo en grupos organizados por edad desde los cuatro hasta los doce años. DEDOS no está limitado sólo a alumnos de Oyster Adams.
¡Todos los niños y niñas son bienvenidos!
DAILY SCHEDULE:
Please drop off and pick up your children in the auditorium and don't forget to sign them in and out.
8:00-9:00am: Before Care
9:00am-3:00pm: Regular Camp Day
3:00-6:00pm: (Aftercare includes snack at 4:00)
SPECIAL EVENTS SCHEDULE:
Splash Party: 2:30-4:00pm, Tuesdays and Wednesdays
Friday Fiesta (children's artistic performances): 2:30-3:00pm
SPECIAL ADD-ON PROGRAM:
LEO: (I Read): Daily hour-long Spanish Reading Program in Library
HORARIO DIARO:
Pueden dejar y recoger sus hijos y hijas en el auditorio. No se olvidan firmar a la llegada y a la despedida.
8:00-9:00am: Cuidado de antes de campamento
9:00am-3:00pm Día regular del programa
3:00-6:00pm (Cuidado de después del campamento que incluye una merienda a las 4:00pm)
EVENTOS ESPECIALES:
Fiestas de agua: 2:30-4:00pm, los martes y miércoles
Fiesta de los viernes: (presentación artística) 2:30-3:00pm
LEO - UN PROGRAMA ADICIONAL:
Experiencia diaria de lectura en español en la biblioteca
---
Directions
Oyster Adams Primary Campus
2801 Calvert St. NW
Washington, DC 20008
Directions at Google

Forms
---