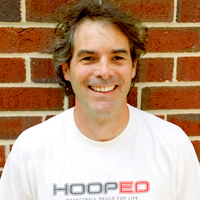 Jeremy Burden, Technical Director

Technical Director: As technical Director for HoopEd, Coach JB is responsible for the development and implementation of all HoopEd curriculum, including one day and full week camps, after school programs, skills classes, and Beginner Ballers. Coach JB develops lesson plans, trains and consults with all HoopEd instructors to insure quality control, and observes instructors for continuing education. In addition, Coach JB is HoopEd's top director for All Sport and Games Camps, Hoops Basketball Camps, After School programs, and the Beginner Ballers.

Coach JB currently serves as Lead Assistant Varsity Coach for the St. John's College HS Varsity Girls Basketball program. He serves as head Girls Basketball Coach at Edmund Burke from 1999-2002 where he was named PCAV Coach of the Year in 2000. He also served as Head Varsity Coach at Augusta Prep from 2004-2007. Lastly, Coach JB has served as Technical Director and Creative Movement Specialist for Chevy Chase Presbyterian School from 2008 to the present.